Frequently Asked Questions
Sizing
In order to determine your correct size, use a tape measure and measure the widest part of your dominant hand (see diagram). If you don't have a tape measure, use a piece of string and wrap it around your hand and then measure the length of the string with a ruler.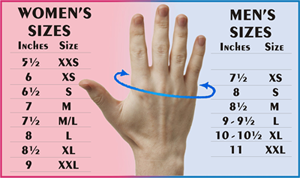 If you're between sizes, round up or down to the nearest size. Also, keep in mind that new gloves need to be snug (not too tight and not too loose) since they'll stretch after some use. When buying any gloves, the looser the fit the warmer your hands will be; the tighter the fit, your hands will tend to be colder on a cold day. Reason being when there's air inside the gloves, your hands will warm the air which then acts as a buffer to the cold environment (The same dynamic as wet-suits used by scuba divers and surfers; water gets into the wet-suit and body heat warms the water trapped inside the suit.).
If you order or receive gloves which are too tight, try not to force your hands into the gloves; simply return them for a larger size. Glove leather can rip and we can't issue a refund or exchange for any returned gloves that are torn.
Warmth
Cashmere is the warmest natural fiber known to man and its softness is due to being sheared from the belly of a goat. But keep in mind when buying any cashmere lined gloves, the linings are not as thick as a cashmere sweater. The linings are substantial but still relatively thin so if you're thinking warmth, a cashmere lined glove will be warm to a certain degree. If the weather is in the 30's or 40's (°F), your hands will probably be fine but if the weather drops into the 20's or below, any cashmere lined glove probably won't keep your hands very warm.
If you're looking for warmth, consider our hand-stitched Sheepskin/Shearling gloves that are hand-sewn in Portugal; they're the warmest gloves we sell. Bulkier yes, but when the ravages of the cold are causing you to suffer, sheepskin is definitely what we recommend.
Silk lined and unlined gloves are usually worn to be tight fitting and they won't keep your hands as warm as cashmere.
Care for your gloves
Gloves need to fit snug so if you received a gift or ordered the wrong size, feel free to return your gloves and we'll send you your correct size (See our Chart above regarding Sizing).
As for any glove linings, large rings can often tear or snag the linings so try to abstain from wearing your jumbo gems when wearing gloves. If wearing a moderate sized ring, turn the top of the ring to the palm side of the glove. Also, be sure there aren't any sharp edges which can tear a lining after repeated use.
If your gloves get wet, don't put them in a dryer, on a radiator or any other hot surface since the gloves will often dry out and shrink. Simply use a dry white cloth or rag and squeeze the gloves to get as much moisture out of the leather. Then gently pull the body and the fingers back into shape, smooth out the leather and place on a dry white cloth and allow to air dry. You can also use a wooden spoon (or something similar) and insert into each glove so there's an opening for air to circulate. When dry, gently put gloves back on and smooth out the leather again.
Also, any fashion gloves are not designed for rugged outdoor use and they have other limitations too. So try to avoid snow-ball fights, food and newspaper print (especially with colored gloves). And with any lighter colors, try not to touch your face too often since the oils from your skin can turn the fingertips dark.
As for cleaning and caring for our sheepskin/shearling gloves, try using a suede brush that can be bought at most shoe repair stores. These brushes have fine metal bristles and minor stains and dirt will often come out with gentle brushing in an up and down motion. Be sure not to dig too deep into the skin since you could damage the leather. If need be, consider having your gloves professionally cleaned by a leather specialist.
Shipping
We'll do our best to ship your order from New York City within a few days of receiving your order. If we're temporarily out of stock of an item, we'll contact you via email and inform you of the item's status. Then, either we'll ship to you on an agreed upon date or we'll gladly refund your money.
We ship First Class Parcel via the United States Postal Service (USPS) that provides us with a tracking number. Because we can't be responsible for items left in an unlocked mail box or on someone's porch, it's best to have your purchase sent to a secure location like your workplace or where someone will physically receive delivery. If for whatever reason you decide not to receive the shipment and your order is returned to us, we'll refund your credit card the cost of any items less the shipping charge.
Our USPS shipping and handling charge is $5.00 and delivery is usually between 2-5 working days depending on your location in the US. If you need 2nd Day Service, we'll either ship FedEx or UPS at a charge of $20.00 per order. Next Day Service can be provided by either FedEx or UPS for an extra charge of $29.00 per order. With either of these services, we'll do our best to ship within one or 2 days from the time we receive your order and if can't, we'll contact you via email. If you decide to cancel the order, we'll refund the total amount charged to your credit card.
2nd Day or Next Day Service via FedEx or UPS within the USA cannot be delivered to Post Office Boxes and service is to all states except Hawaii and Alaska.
If ordering from Canada, the shipping and handling charge is $10.00 USD. And please be aware that a customer will be responsible for;
"Under the provisions of the Postal Imports Remission Order, if someone mails you an item worth CAN$20 or less, you don't have to pay duty or taxes on the item. If the item is worth more than CAN$20, you must pay the applicable duty, the GST or HST, and any PST on the item's full value."
"To process goods imported as mail that are subject to duty and/or tax, Canada Post charges the recipient CAN$9.95. If the item is duty-free and tax exempt, no amount is charged."
See the link below regarding above Canadian Duty, Taxes and Fees;
http://www.cbsa-asfc.gc.ca/import/postal-postale/duty-droits-eng.html
If a shipment to Canada is returned to us for non-acceptance of a package, a full refund of the purchase price of your order will be credited to your credit card less the shipping and handling charge and any charges imposed upon us by Canadian/US Customs or USPS.
Shipments to Canada will be sent by USPS First Class Parcel Service with a Tracking Number provided.
If ordering from another country (other than the USA or Canada), please email us and we'll let you know the shipping and handling charge.
Exchanges and Returns
If you need to exchange your gloves for a different size or return them for a refund, simply send the attached gloves* back in their original/unworn condition** and post- marked within 14 calendar days of purchase. No Return Authorization # is required and when sending back the gloves please include the following information;
- A copy of your order with your name, address and zip code and price(s) paid.
- Tell us what size you'll need (See above re; SIZING) or if you're requesting a refund.
If exchanging, we'll pay the cost of sending the gloves back to you via USPS First Class Parcel. If your gloves were purchased after Thanksgiving Day of any year, we'll extend our exchange and return policy to the second week of January of the following year.
If buying our hand-stitched shearling gloves, please keep in mind a seam can sometimes come unraveled (Either after a lot of use or rarely after wearing them just a few times). The beauty of these gloves is that they can easily be repaired by a tailor. So if your shearling gloves break a seam after a lot of use, simply bring them to a tailor and have them repaired for about $5-10. If your gloves come apart in the first 14 days after purchase, email or call us and we'll discuss several options we can offer you.
*Please send gloves back by a carrier that has delivery confirmation or a tracking #. If gloves are sent back without a confirmation or tracking #, we can't be responsible for goods not received by us.
**Please note that gloves can't be worn for 1 or 2 days and then returned for a refund or exchange. The gloves need to be in their attached and original condition so they can be sold to another customer as new and not used. If gloves are unattached and show signs of even minor use, we'll have to return the gloves to you. And from a business point of view, we think you'll understand this policy.